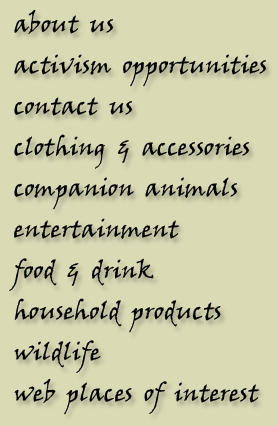 "Not to hurt our humble brethren the animals is our first duty to them - but to stop there is not enough: we have a higher duty - to be of service to them whenever they require it."
~ St. Francis of Assisi


Dogs DO deserve better : help put an end to chaining dogs
Puppy Mills : Progress has been made in PA and other states, but there's more work to be done!
Save chimps from lab testing and poachers
Defend wildlife : act now to save lives

The Philadelphia Zoo had to face its inability to properly care for elephants... good news for Dulary, but what about the others and the elephants in zoos around the world?
Elephants in the circus & in zoos : now on YouTube.com!
Please feel free to share any links, images, or information found on this site. Information is power, and we want you to share it with as many people as possible.